Action Day Plan
Rally For Ms. Sherry Chen
Hearing: 100 E 5th Street, 45202. 9am-5pm on both 14th and 15th.
Rally: in front of the court house at Walnut and 5th st (close to Fountain Square)
Post Photos and Videos on our FB and Twitter Page
We have launched our designated Facebook and Twitter page for Justice For Sherry Chen.
Please click "going" on fb.me/sherryhearing to show your support for Sherry and all Asian Americans living in this country.
Post and tweet pictures and videos you take on fb.me/sherryhearing  and twitter.com/sherryhearing. Thanks!!!
Volunteer and Carpool
No matter if you need carpool, or would like to be a driver for others, or be a volunteer, please sign up as soon as possible. Please also provide an accurate email address.
Courthouse Parking
Potter Stewart U.S. Courthouse is on Fifth Street between Walnut and Main Streets. The courthouse does not have parking available, but there are several parking garages within a block. The nearest and also the cheapest parking garage is on 351 E 7th St (0.2 mi away) $11 for the whole day.
You can sign up parking before you leave home at Parking Panda for Cincinnati.  After you purchase the parking on Parking Panda, you will receive the parking pass via Email which you can scan at the entry.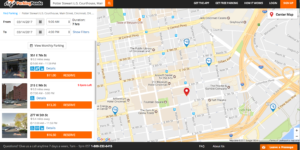 Dining Recommendations
OCAA is  going to supply everybody water, snack bars and maybe some really hot chocolate!
Below are some recommended lunch places nearby:
FUSIAN
Rating 4.4 Sushi
Modern counter-serve option featuring creative build-your-own sushi rolls, tea & Japanese sides.
600 Vine St #104
Quick bite · College students · Casual
Opens at 11:00 AM
Al-Amir Cafe
Rating 4.4 Restaurant
410 Vine St
Quick bite · Small plates · Quiet
Opens at 10:30 AM
Ingredients
Rating 3.9 Restaurant
Breakfast & lunch counter for made-to-order American cafe bites in a relaxed space with free Wi-Fi.
21 E 5th St
Coffee · Quick bite · Casual
Opens at 6:00 AM
Upon Arrival on Hearing Days
The hearing will be starting from 9am to end of day. The rally on both days will be from 11am-1pm.
OCAA volunteers will be wearing colored wristband to assist participants to attend both hearing and rally.
If you arrive before 11am or after 1pm, please go ahead to join the hearing as directed by our designated OCAA volunteer.
If you arrive between 11am and 1pm, please join our rally with your signs as directed by our designated OCAA volunteer.  
Help Hotline
If you have any difficulties to receive information from an OCAA volunteer, call or message our Communication Chair, Mr. Yin. His number is 440-241-TWO-ONE-FOUR-ONE and his WeChat is Yumin_Yin (Contact please mention "Rally Info").
Rally and Hearing Rules
Please follow any U.S. laws and use directions from OCAA volunteers as a guidance for your conducts during the entire time of your stay.
Courtroom Rules
For complete courtroom rules, please refer to U.S. courtroom rules FAQ
Basic Courtroom Etiquette Rules: Wear clothing that would be appropriate for business.Arrive on time (before the begin or during the breaks: 9am, 11am, 1am, 3am).Turn off electronic devices and cell phones before entering the courtroom.Be polite to the judge, opposing counsel, and court staff.Rise when the judge and jury enter and leave the courtroom.Stand when speaking to the judge, making or meeting an objection, or questioning a witness.Do not interrupt others while they are talking.Refer to the judge as "Your Honor."Direct all concerns and remarks to the bench and not opposing counsel.
Basic Rally Rules
Dress code for rally: business casual (minimum) and business formal (recommended).
Bring your own signs. How to make a sign at home
Peaceful and silent protest only. No chanting of slogans and no interaction with others to avoid any potential conflicts.
Never argue with police or other people. Find OCAA volunteers for help. For emergency, call police.
When approached by news reporters, find OCAA volunteers to get our designated speaker.
Help shoot videos whenever possible during the interview of our speakers.
Help shoot photos of the event whenever possible and share it on fb.me/sherryhearing.
Rally as a team and assist each other whenever necessary.
In case of emergency such as a riot, please find the nearest safe place as soon as possible. 
Dos and Do-nots
You can do
You have the First Amendment right to peacefully assemble to protest.
You can protest in public spaces, such as streets, sidewalks, and parks so long as you aren't blocking traffic. 
You can protest without a permit in response to recent events. Check local laws for restrictions.
You have the right to distribute literature, chant, and engage passersby in debate in public spaces without a permit.
You can photograph or videotape the police.
Keep in Mind
What you say to the police is always important. What you say can be used against you, and it can give the police "an excuse" to arrest you.
You are required to provide your name, address, or date of birth to a law enforcement officer upon request. You can be arrested for refusing to identify yourself to an officer.
You DO NOT have to consent to a search of yourself or your car.
You canNOT do
You can not use amplifiers.
You can not block entrances.
You can not incite violence.
You can not antagonize the Police.
You can not carry any weapons, knives, or chemical agents.
Core Messages and Talk Points
The following messages are intended for use by volunteers for spreading the word to the public (or talk to media if necessary) about the case. 
Core Messages
Falsely accused as a spy of China by the government, Asian American woman Sherry Chen's life has been turned upside down.
Sherry is fighting not only for herself but for all Americans and people living in this country for justice, equality and fair treatment.
Sherry is appealing against the wrongful employment termination, racial discrimination and retaliation from the government.
Talk Points
Sherry Chen is an innocent American citizen.
Sherry Chen is an award winning scientist that helped prevented loss of lives and property damage from East Coast to Midwest.
She is an award winning Asian American scientist who has made great contributions to American society.
Sherry Chen was wrongfully accused by the government based on unfounded accusations by a co-worker who presumed Ms. Chen was a Chinese national and spy.
Sherry Chen's case was dropped by the government after one year's extensive investigation without explanation.
The New York Times called for "an explanation or apology from the government."
She loves this country and her job.